Just visited Cuba for the first time over the holidays. It was an eleven day, family affair with my parents, sisters and their families. We had an amazing time. I tend to do a lot of research and planning before I go on a trip and like to help other people know what to expect when they travel. Especially if it's to a country you've never visited before. Cuba definitely isn't a country you want to be winging it in, since wifi isn't readily available. I've provided some practical and useful, know-before-you-go tips to help ensure you're ready for your trip to Cuba and that it will be enjoyable.

1. You're In a Foreign, 3rd World Country!
Let me repeat: You're in a foreign, 3rd world country! Don't go to Cuba with expectations that things will be the same there as they are in your home country. Cultural norms or things that you consider standard may not be the standard here. When I travel I see too many people turn up their nose or get aggravated because something isn't similar to what it is at home. You're traveling. You're not at home. Part of the travel journey is having new experiences, things that will take you outside your comfort zone. Be open to understanding that. If this is something that is hard for you, a visit to Cuba may not be for you. Travel period, may not be for you. This is a beautiful country, with beautiful people and a beautiful culture. So please show respect when you visit and remember the golden rule: Treat others, as you want to be treated. This should go without saying, but there are a few people out there that could stand to hear it again. Although this article is discussing Cuba, this goes for anywhere you travel.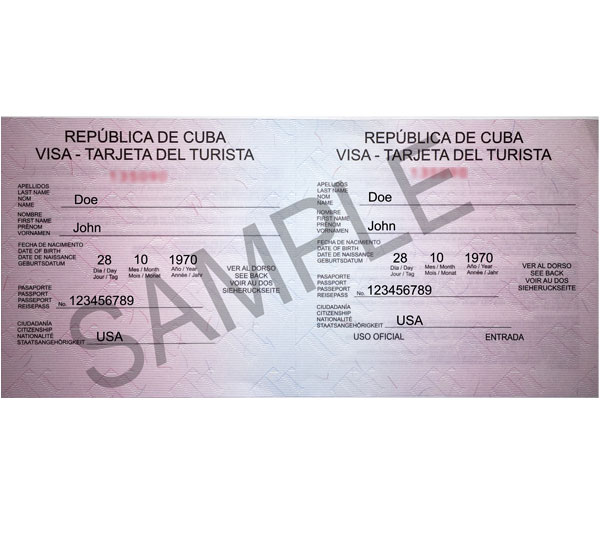 2. Tourist card/Visa
If you're flying to Cuba from the U.S. your tourist card will be pink. You can either purchase your tourist card/Visa in advance through an agency or purchase at the airport before your flight. I recommend purchasing in advance instead of purchasing at the airport because the cost is $100 per card at the airport versus $85 per card through the agency. Some airlines have tourist cards specifically for their airline so before you purchase through the site, make sure to request that particular tourist card. For example, I used the agency I provided the link to in this article. We flew on American Airlines, so I requested the tourist card for American Airlines passengers. If you need the visas quickly, you can pay the expedite fee with the agency ($40) and get overnight delivery.
**Side note: For Americans, many articles will tell you health insurance is required to visit Cuba. Health insurance is built into the cost of your airline ticket. You do not need to purchase travel insurance, unless you're just looking to get better coverage.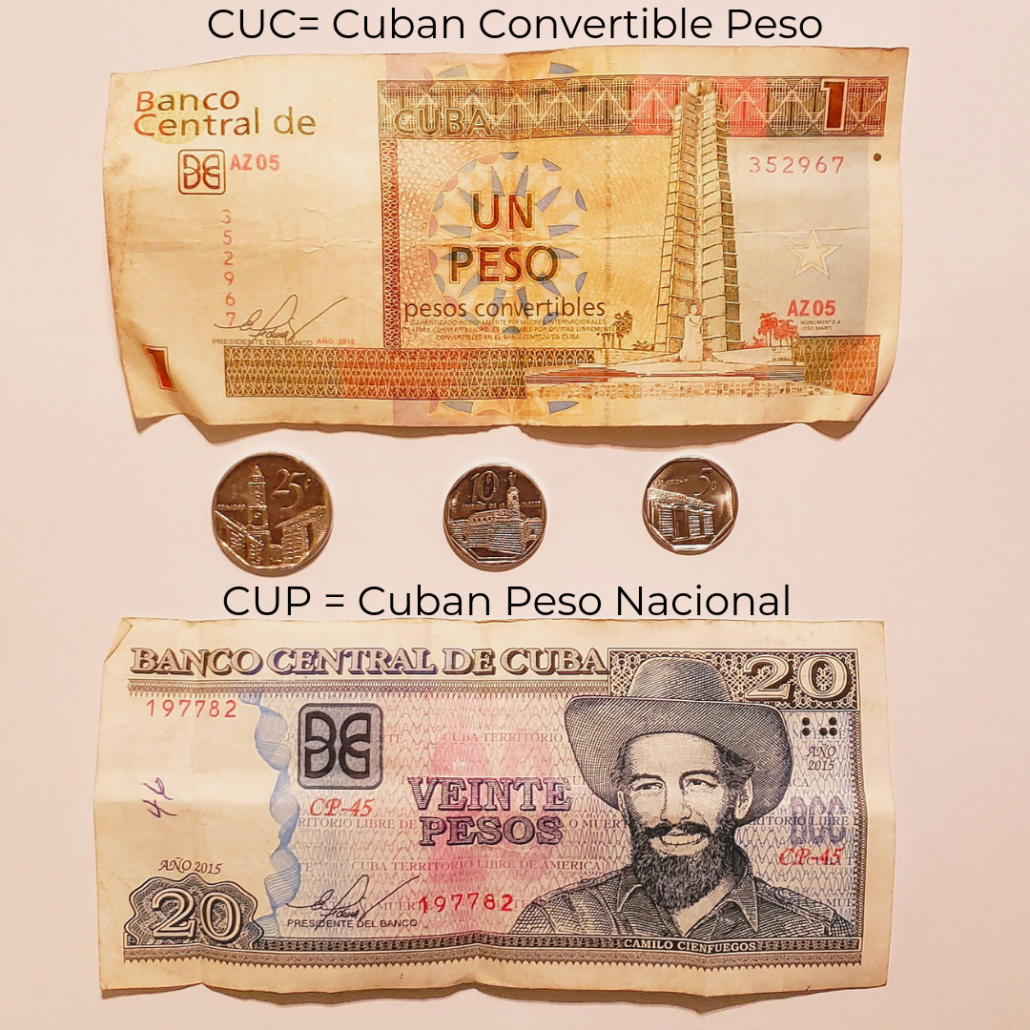 3. Currency & Converting Money
If you're an American traveling to Cuba, please know that your credit cards and debit cards will not work for you. They won't even work in ATM's. You must carry cash. I believe my father and sister were able to use an ATM at the airport to pull out cash, but only one of their cards worked and I believe it was their Navy Federal Credit Union debit cards. (Shout out to them!) They tried other debit and ATM cards, but that was the only card that worked for them.
I was unable to find any money exchanger/currency converter that had Cuban currency before we left the US. You must wait and convert money upon your arrival. The currency used mostly is CUC (Cuban Convertible Peso). If you're exchanging USD, it is an even exchange, 1 CUC = $1 USD. Cuba also has the CUP (Cuban Peso Nacional). The exchange rate for this currency is 25 CUP = $1 USD. Primarily, locals use this currency. The only places that will really accept this currency are possibly street food vendors and neighborhood restaurants. If you decide to exchange for some of this currency do it sparingly. There was only one place we found that would take it. Most vendors tend to operate on the CUC. There is a money exchanger at the airport that you can use to convert your money once you arrive. If you choose not to use it there, find a bank (before you go, look up which local banks exchange CUC, many only exchange for CUP) in the city to use or cadecas (exchange houses). You will need your passport when exchanging money. Don't forget it.
4. Learn Some Spanish Or Spanish Phrases
Spanish is the native tongue. It's a great benefit to you if you know or understand Spanish, but it doesn't have to stop you from getting around. There are people you can find that do speak English, but I highly suggest learning some Spanish before going if you can or at least learning phrases that will help you communicate. Duolingo is great for this. I would also suggest downloading the offline version of Google Translate to help you communicate. This app was a godsend when my very, super limited Spanish failed me and the other person didn't know English.
5. Download Offline Versions Of Maps
If you're someone that loves exploring a city on foot, I highly suggest downloading offline versions of maps for Havana or other cities you plan to visit. This way even though you don't have wifi and/or don't want to run up some astronomical bill with your cell phone provider, you'll still be able to explore to your hearts content and know exactly where you're going. Apps such as CityMaps2Go by Ulmon is a great one. Maps also has an offline app. Another resource is Lonely Planet. They have guides and maps that work offline.

6. Budget More Than Needed For Ground Transportation
We stayed in the Vedado neighborhood of Havana during our trip. It is about 15 minutes or so from Old Havana. This meant we had to take a taxi everyday to get to attractions and sightseeing. Cuba's currency used for nearly everything (especially tourists) as mentioned above is CUC. If you're traveling with a large group like we were sometimes we had to use 2 taxis. The lowest cost I remember paying for a ride into Old Havana, was 25 CUC ($25 USD), that's not round-trip. Depending on the length of your visit, the number of people in your group to split the cost and how often you'll need a taxi, ground transportation can eat up your budget very quickly. Make sure you budget more than you need for the ground transportation portion of your trip. Paying for transportation to travel outside of Havana for day trips and things of that nature can be very costly as well.
7. Pack Snacks
If you're someone that enjoys snacking between meals or even for health reasons need to eat every so often I highly suggest packing pre-packaged snack items. The mercados and supermercados are usually crowded and busy and often you'll have to wait in long lines to pay for your items. Plus, there are slim pickings when it comes to what the stores offer. Please don't go expecting to be able to walk in and find a plethora of options or brand names to pick up. What is offered is very limited.

8. Bring a Flashlight
Many 'casa particulars' or AirBnB's are of course in residential neighborhoods. Many of these streets do not have street lighting or it is limited. Plus, the sidewalks can be broken and uneven in areas. If you're planning to walk around at night remember to either pack a small flashlight or download a flashlight app on your phone. I highly recommend getting out and exploring the neighborhood you choose where you choose to reside. The neighborhoods are great. Usually, there are parks or restaurants/food vendors within the community. The flashlight will come in handy so you can see where you're going and won't cause yourself an injury because you can't see.
9. Buy a Local SIM Card
Most people aren't going to use their phones while visiting Cuba because the roaming and data fees can be astronomical. If these features even work on your phone while you're there. Your phone will more than likely be more of a glorified camera during your visit. Unless of course you've downloaded some of the offline apps I mentioned. If your phone is unlocked, jailbroken or you have an old or extra inexpensive phone you can buy a local SIM card to use in the phone during your visit. This SIM doesn't provide internet access, only allows you to make calls locally. This can be helpful for communicating with tour guides or making local phone calls. If you do want to spend the money and attempt to use your phone while there (even though I don't recommend it) make sure to check with your cell phone provider so you're aware of the fees and costs before you go.
10. Internet Use
If you really must use the Internet while you're in Cuba you can buy a wifi card. Wifi pre-paid cards can be purchased at ETECSA locations. The cards provide 1-hour or 5-hours of Internet use. The 1-hour card is 1 CUC and the 5-hour card is 10 CUC. You're only allowed to purchase 3 cards per person, so make sure you buy enough hours to cover how much time you think you'll need. Also, make sure you have your passport with you when purchasing the card. They will ask to see it. Just know the lines to purchase these cards can be long. Some locations don't require foreigners to wait in the line, so if jumping the line isn't an issue for you, be my guest. If you have manners and want to be courteous then wait in the line with the locals. Once you have the card you must find a wifi hotspot. These hotspots are typically located in a hotel or park. There are some casa particulars or AirBnB's that are starting to have access, but these are few. Another thing to note is that, the Internet is restricted in Cuba and government controlled. Remember it is a communist country.

11. Wear Comfortable Shoes
As a woman I know how important it is to want to look cute for all those photos you take when you're traveling. However, your feet won't thank you when you're walking around all day on rough, uneven or cobblestone terrain in shoes not meant for long hours or certain surfaces. You'll do a lot of walking here. If you don't want to be sidelined quickly due to an injury or sore, aching feet, bring comfortable shoes with you for the days spent hiking, sightseeing or even out in the countryside (cities such as Vinales, etc). Later in the day, trade those in for the cute shoes when you go to a nice dinner.

12. Research Before You Go
Again, your access to wifi will be limited. Before leaving on your trip, research where and what you're interested in seeing and doing: attractions, places, tours, restaurants, etc. This way you'll have some ideas or plans before you leave. I also suggest possibly pre-booking some activities before you go so you can limit how much you'll need to use the wifi. AirBnB has a section for activities that are offered in Cuba or you can try a site such as Get Your Guide to purchase activities and events in advance.
13. Bring Extra Napkins, Tissues and/or Paper Towels
There was not an abundance of paper products when we were out and about. Even some restaurants provided napkins sparingly. I ended up getting sick the last few days of our trip because we were caught in the rain during our horseback ride. Tissues were hard to come by. Even at our casa particular these items were doled out sparingly. Plus, many of the paper products offered are very rough in texture. Don't expect to find Charmin or Angel Soft here. If you're someone that has skin that is easily irritated I suggest making sure you add paper products (toilet paper, tissue, paper towels) to your packing list.

14. Public Restrooms
Most public restrooms require you to pay in order to use them. Usually, there is an attendant. Some have a set fee, you'll pay anywhere from the equivalent of $0.50 up to 1 CUC. Also, this fee usually pays for the toilet paper they provide you before you enter the stall since some restrooms won't have paper in the stall. (This is also another reason I mentioned packing toilet paper, so that you can have some on you in case you encounter a restroom with no attendant and no toilet paper.)
Part of the reason for the charge of the toilet paper is that many of the attendants have usually paid for the toilet paper with their own money. So don't get irritated about this. This is how this person is making a living. Also, something else to note, most of the restrooms don't have toilet seats. You'll have to squat or sit on the porcelain rim. Which brings me to another item you may want to pack: toilet seat covers.
15. Always Read The Fine Print
When booking a tour make sure you know exactly what your money is covering on the tour. Often, you'll see a list of what you're going to do on the tour, but you may still be responsible for the costs of some of the items listed on the itinerary. The tour may mention that you will stop for lunch, but often you will have to pay out of pocket for your lunch. Another example is visiting different sites on the tour, not all the entrance fees for these sites may be covered in the costs of the tour. Make sure to ask these questions if you're unsure what the cost of your tour is actually covering so you don't get blindsided by additional fees you weren't aware of.
To piggyback off of reading the fine print: when booking a tour to Varadero find out what's included or what beach/hotel/resort they are taking you to. Are they just dropping you off at a random beach and you're on your own or will they take you to one of the hotel/resort's beaches where you will have access to lounge chairs, umbrellas, food, beverages, activities, etc. for a fee?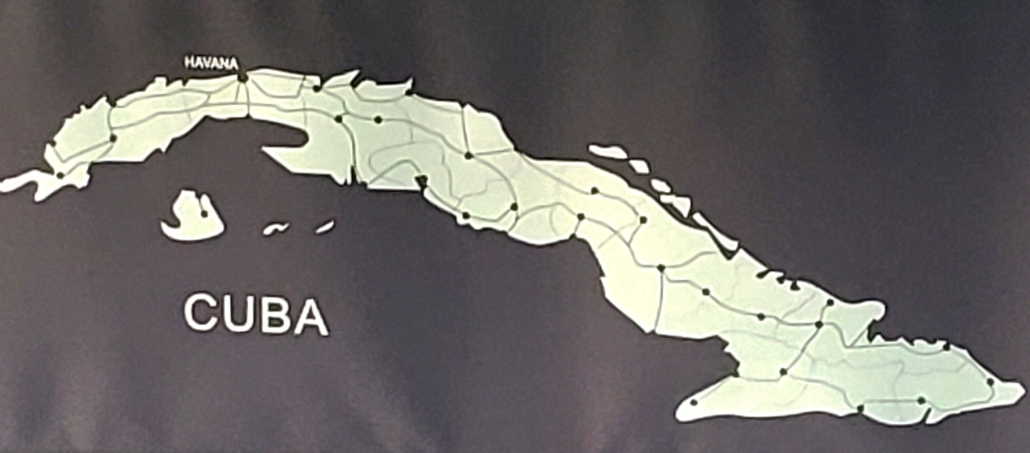 16. Cuba Is Larger Than You Think
Getting around Cuba can take a lot longer than expected. The cities you may be interested in visiting are more spread out than you think. If staying in Havana, other cities like Trinidad (6 hours from Havana), Santiago (nearly 8 hours from Havana) and Baracao (13 hours from Havana) are several hours away. If you don't have a lot of time or you're not someone whose up for long car trips I suggest narrowing your itinerary to specific areas and organizing a few day trips to locations that may only be a couple hours outside the city. Shorter day trips from Havana might be Varadero, Vinales, Las Terrazas or Cienfuegos. All of these locations are 1-3 hours outside of Havana. You can choose to fly between cities, but this isn't a cheap option.
17. Be Prepared For Noises At Night
Whether you're staying in Old Havana or a residential neighborhood, be prepared for some noises during the night. Depending on where you stay in Old Havana you may be subjected to noises of nightlife during the wee hours of the morning. If you're in a residential neighborhood the noises you may be subjected to during the night and early morning hours could range from barking dogs, loudly meowing cats and roosters. I was definitely treated to the soundtrack of the latter. I'm a heavy sleeper so I wasn't really bothered, but members of my family will tell you a different story of many sleepless nights. So if you're a light sleeper, I would suggest packing ear plugs just in case.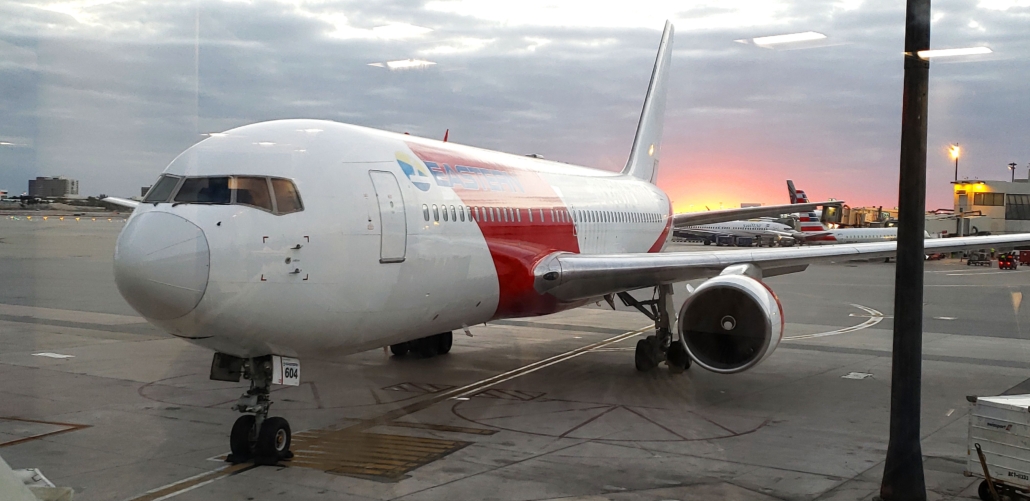 18. Departure From Havana Airport
On your departure flight out of the country, it's important to note that you must be checked in an hour before your flight. They close the check-in an hour before and will not let you get checked in if you miss this window. You will be forced to reschedule your flight. This happened to my sister. Thankfully, she was able to get on another flight leaving later the same day. The gentleman ahead of her that this happened to couldn't get out of Havana for another 5 days, because that's when the next flight was headed to his destination. So make sure you arrive in enough time to get checked in.
"Adventure is a path. Real adventure, self-determined, self-motivated, often risky, forces you to have firsthand encounters with the world."

– Mark Jenkins
Cuba is an amazing place to visit. There is so much culture and history to experience and enjoy. The last thing you want is for your trip to be upset by things that could have been prevented or planned for. These tips will ensure that you have a smooth trip. You'll be prepared and able to relax and enjoy your visit. Stay tuned for my next post that talks about our experience in Cuba.


https://shewanderstheglobe.com/wp-content/uploads/2019/01/20190105_111041.jpg
1960
4032
Moni Boyce
http://shewanderstheglobe.com/wp-content/uploads/2018/09/bigger-logo.jpg
Moni Boyce
2019-01-30 02:29:41
2019-02-01 06:37:31
Know Before You Go: Cuba