Many people think of Colombia and they think of all the violence that encapsulated the country decades ago, but the Colombia of today is a country that has undergone an amazing transformation. It's a word you'll hear many of the Colombian people use when you speak with them. During my visit to Colombia I had the pleasure of enjoying a few days in the vibrant city of Medellin, the second largest city in the country.
Medellin is a vibrant city that has spent a long time reinventing itself and you see the evidence all throughout the city. People from the city of Medellin and the surrounding areas call themselves Paisas. They are friendly and welcoming. The city offers a lot to see and do. Here are just a few gems that are a must when planning your trip.
Where To Stay
Two of the best neighborhoods to stay in are El Poblado and Laureles. El Poblado is the most popular neighborhoods to stay in. This is where you will find most of the city's nightlife, such as restaurants, bars and nightclubs. This area is also great for shopping.
We stayed in the Laureles neighborhood, an upper-middle class residential area of the city, in a highly rated, 4-bedroom AirBnB property.
Getting Around
There is a great metro you can use to get around or you can use Uber, if you don't plan to rent a car.
Fun Things To Do
The tour of downtown Medellin offered by Real City Tours is a free tour led by a local. It lasts between 3 ½-4 hours. Put your walking shoes on and be prepared for a good walk. This tour is great because you learn a lot about the city itself, its history you walk through some of the squares and parks. Our tour guide was very colorful and made the tour fun. Even though the tour is free it does require you to make a reservation on the site where you can choose the date and time of day you'd like for the tour. The tour guides do work on tips so make sure to have money ready at the end of your tour to tip your guide.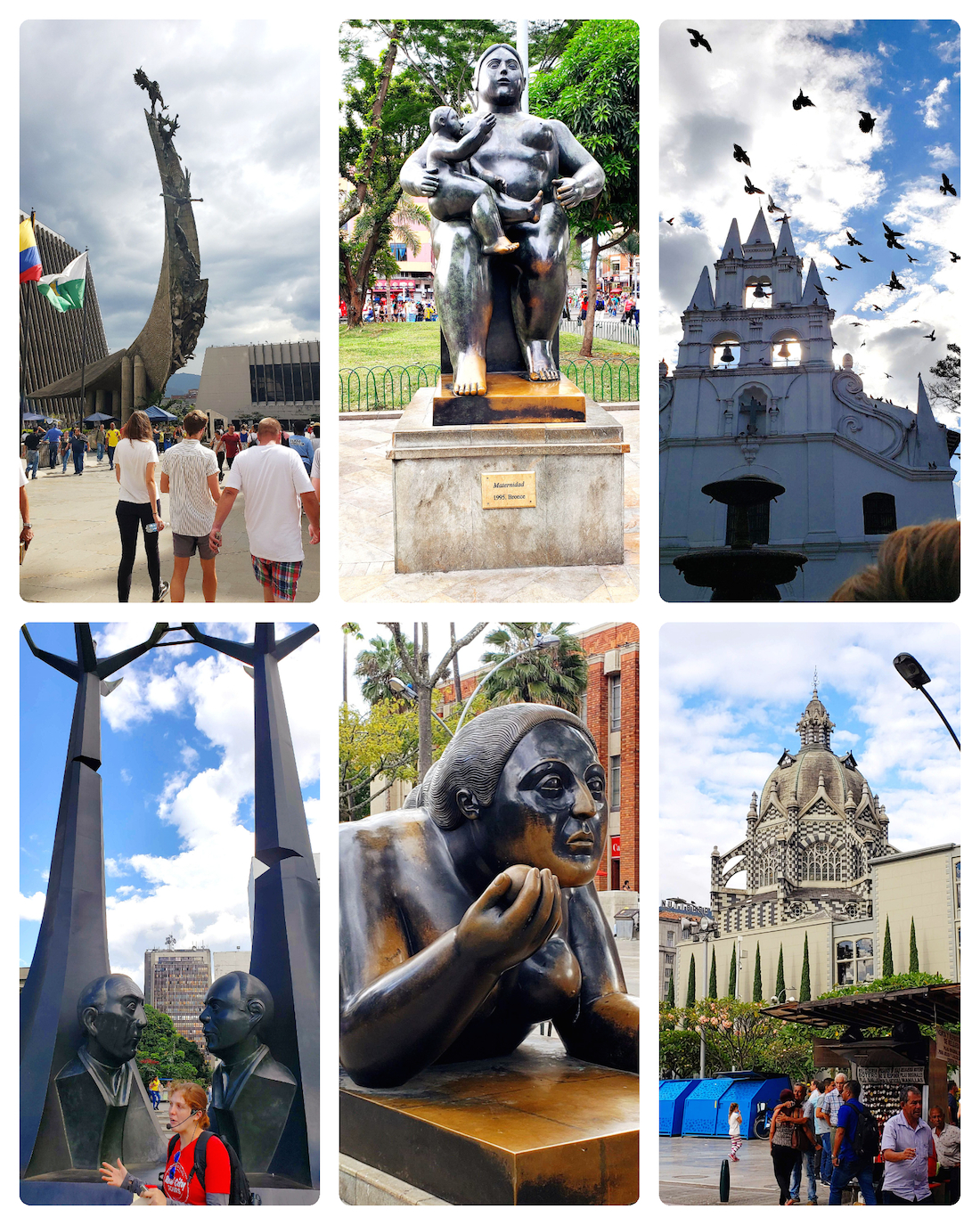 The Rock of Guatape (Stone of El Penol or El Penol) & Guatape
El Penol is located in the town of Guatape and rises about 650ft. It is one of the largest . If you're up for the climb, there are 740 steps to the top of the rock. Yellow numbers mark each step so you don't have to keep track of how many steps you've climbed. I was unable to climb when we visited because I have a knee injury so I took pictures and explored the food stalls and vendors that surround the base of the rock. The surrounding area is beautiful and offers many picturesque views.
After you climb El Penol, head back into Guatape and visit the colorful little town. The Catholic church in the little village, Parroquia Nuestra Senora Del Carmen Guatape, has a beautiful interior that's worth checking out. There are some good restaurants around the city where you can grab lunch. We ate at La Fogata and were even serenaded by a local during our meal. Afterwards, roam around and even shop for souvenirs.
You'll either need to rent a vehicle or hire a driver to get to El Penol because it is about an 1 ½ drive from Medellin. You must purchase a ticket to climb El Penol. Ticket costs are around 18000 Colombian pesos. You purchase tickets once you arrive.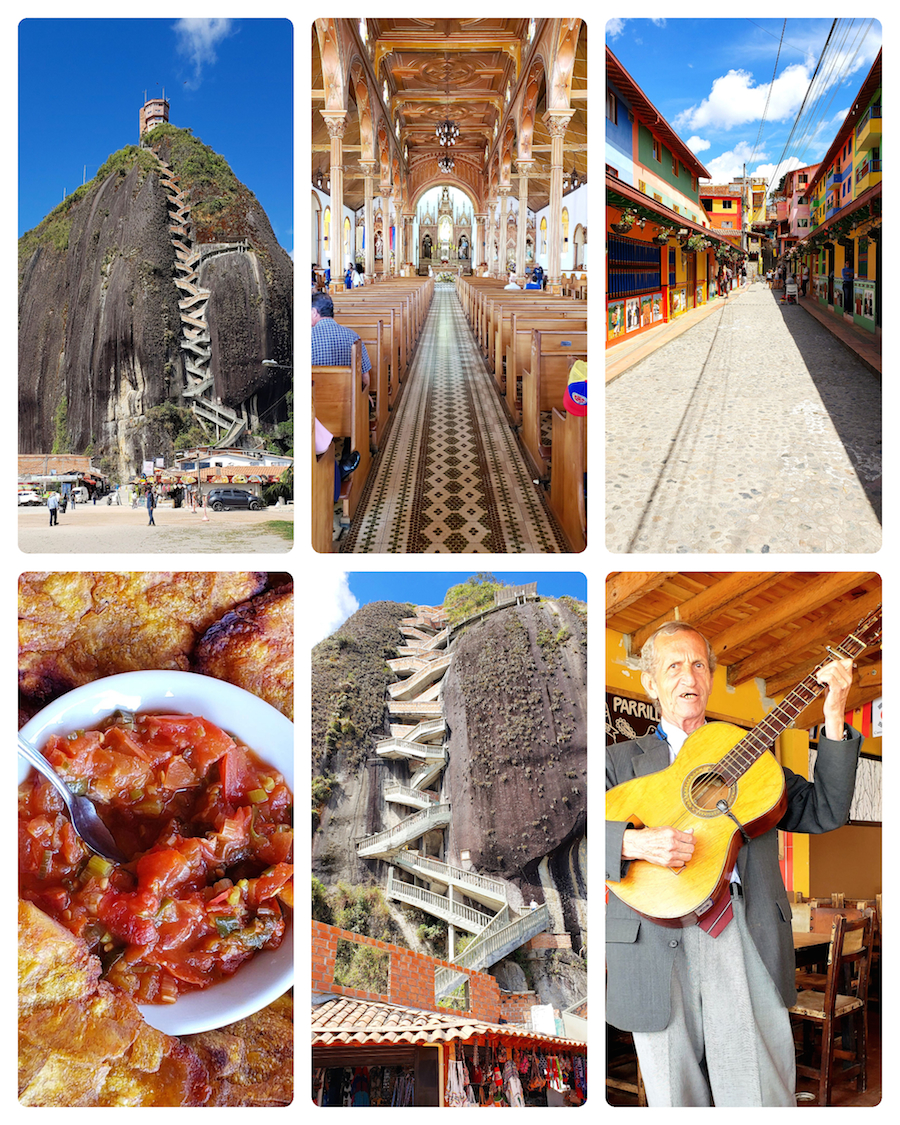 Cooking class and dinner at a local's home
One of the things I always want to do when I travel is attend a cooking class and/or eat in a local's home. This allows me to get the authentic experience I love to have when I travel because I get to go to a local's home and have a meal, but more importantly good conversation where I can learn about them, their life and more about the culture.
A site that's great for helping you find people that have been vetted is a great site called Traveling Spoon. You can check out profiles of home cooks in the area and then book with them. You can choose to do a cooking class and an in-home meal, throw in a market visit if they offer it or you can simply just go and enjoy the meal. Normally, I like to do it all. This particular visit we did the cooking class and in-home meal.
Our hosts were Daniela and her mother, Beatriz. They were wonderful. Step-by-step they took us through making yummy Colombian dishes. For the appetizer we made Papa rellena (potato stuffed with ground beef, tomato, onion and hard-boiled egg). The main dish was Arroz con pollo (rice with chicken and vegetables) and the beverage that we made from scratch was called Lulada (Colombian lemonade made with the fruit lulo. I wish I could find lulo in the U.S. because this drink was so refreshing. Towards the end of the meal they also made Colombian coffee for us as we sat around and continued talking. Everything was delicious and Daniela and I plan to keep in touch.
The experiences on the site, depending on what exactly you want to do (cooking class, market visit, and/or in-home meal) in Medellin will range from about $35-$140.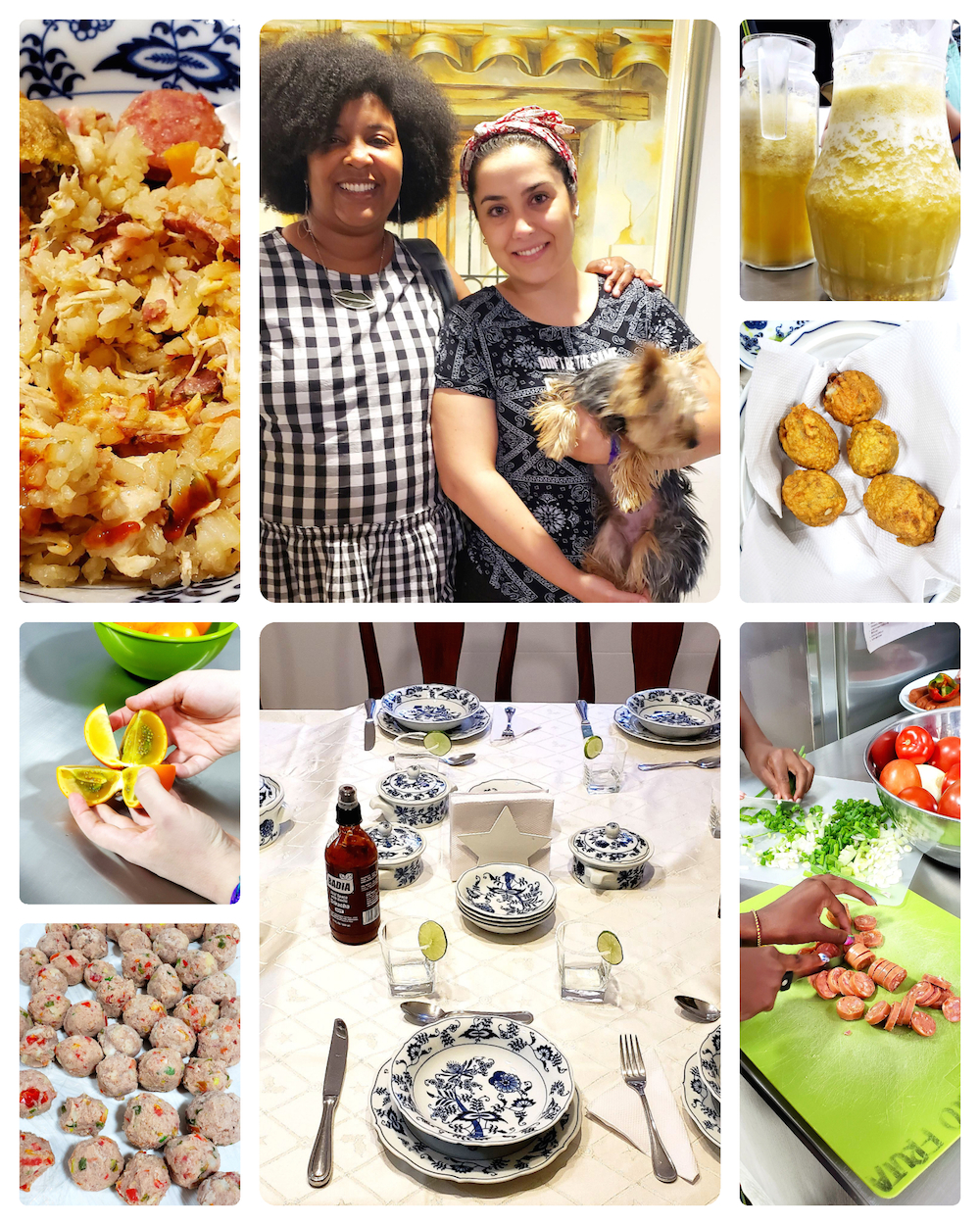 Graffiti Free Zippy Walking Tour Comuna 13 –
This was by far one of the highlights of my visit to Medellin. During the tour you learn that Medellin is broken up into sixteen communities (comunas) and Comuna 13 was once one of the most violent and dangerous neighborhoods in the world. The people here have worked hard to transform their community. Their story and reinvention is written on the walls of the community in stunning graffiti and street art. As you walk through the community and listen to the history, you'll get lost in the artwork and murals that seem to decorate every surface.
Years ago, escalators were put into the neighborhood to make getting around on foot a little easier. You'll ride up the escalators to get to the top of Comuna 13. Along the way you'll find a small art gallery of local artists and you'll even see some street performers.
Toward the end of the tour our guide, Laura, took us to her home, where we sat on her porch and listened to her talk about what life was like when the neighborhood was dangerous and you either were making choices to join the guerillas or a gang. It really is an amazing tour. This is something not to be missed if you're going to be in Medellin.
This tour is also free and requires a reservation. They offer a day tour and a night tour and the tours last about 2 ½ hours. Again, even though the tour is free the tour guides do work for tips so please have money handy so you can tip your guides because they do an awesome job. Wear comfortable shoes because you will be walking a lot and up some inclines, hills and steps.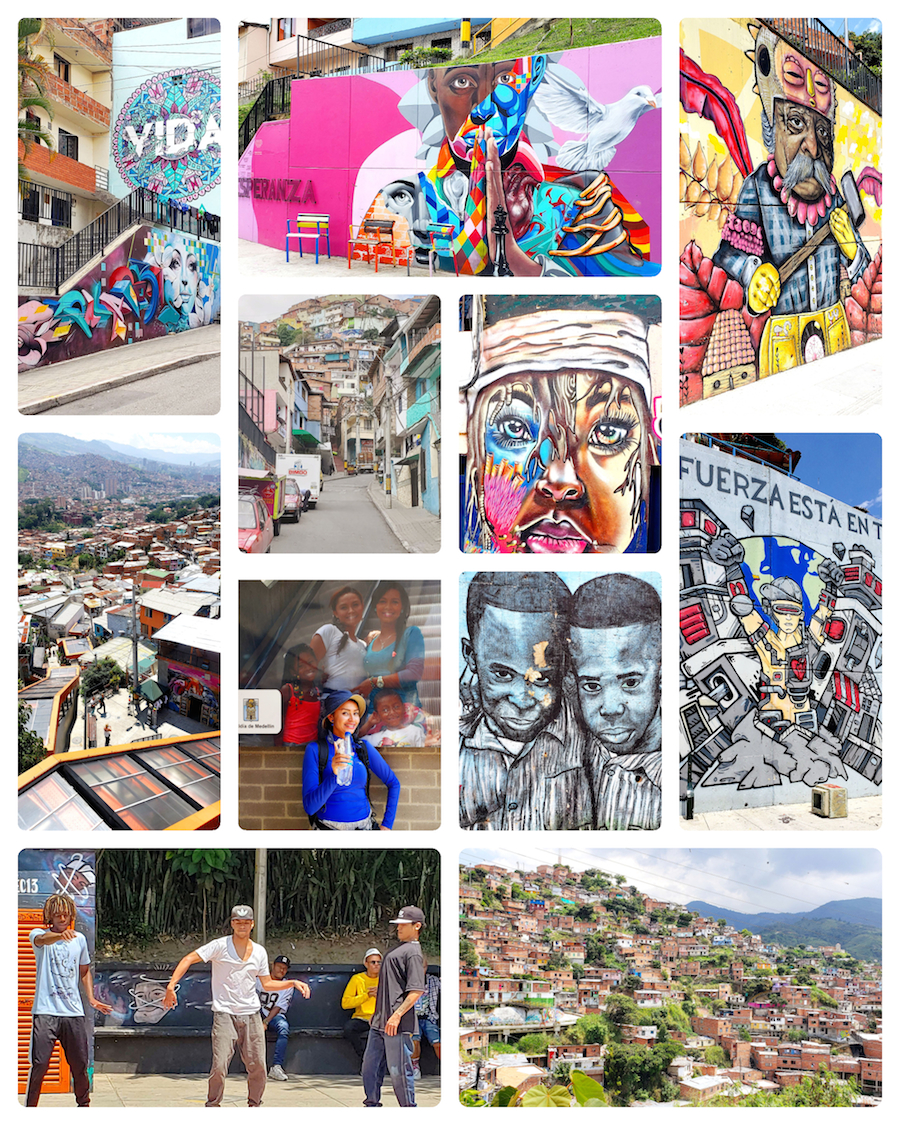 I enjoyed my time in Medellin very much and lamented that I was only able to spend five days here. I plan to go back very soon and spend more time. There was something electric about the city that just pulled me in and made me feel at home. I hope when you visit you have a great experience like I did.
Quick Facts:
Currency: Colombian peso
Language: Spanish
Weather: temperate weather all year long
Well known dish: Bandeja Paisa
Visa: No Visa required for US citizens
https://shewanderstheglobe.com/wp-content/uploads/2018/09/Fun-Things-To-Do-In-Medellin-Colombia.jpg
622
1280
Moni Boyce
http://shewanderstheglobe.com/wp-content/uploads/2018/09/bigger-logo.jpg
Moni Boyce
2018-09-14 04:31:27
2018-09-16 06:34:21
Fun Things To Do In Medellin