In a previous post, I spoke about some fun things to do while you're visiting Medellin. In this post I'm going to focus on a few things to see and do, as well as some restaurants to find good food in the beachy town of Cartagena.
OLD TOWN
Old Town, also known as Old Cartagena, is a historic, walled city with beautiful colonial architecture and cobblestone streets. The vibe is definitely more laid back here, than in Medellin. This area offers many museums and amazing restaurants. The museums of note in Old Town are the Zenu Gold Museum and the Museum of Modern Art. You can even enjoy walks along the top of the walled city. During our visit, I often went out at night to stroll around on top of the wall.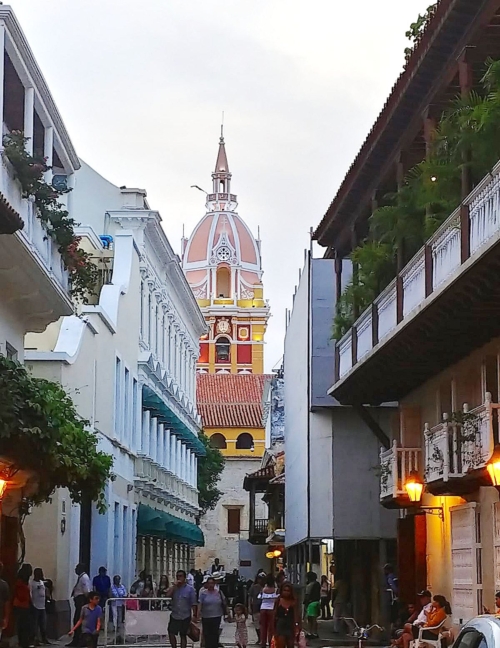 If you choose to stay in this area make sure you stay in a hotel or AirBnB that has a back-up generator. The first few days we were there, there were blackouts three nights in a row that lasted from about 10pm until as late as early afternoon the next day. The whole area of Old Town was dark. One night we were sitting in a restaurant and thankfully had already finished dinner when the power went out, but the other two nights it was past 10pm when the power cut out. The bad thing about having the power go out at that hour is that you have to sleep without air conditioning in hot weather which is a miserable experience. We ended up moving to a hotel outside of Old Town for the last few days of our trip.
Tour guide, Alex Rocha offers a tour of what he considers real Cartagena. As someone, who grew up in one of the barrios and calls Cartagena home, Alex is an expert on the city. In this tour you discover more authentic locations of Cartagena and not just the tourist traps. You'll also sample some of the local foods. During the tour, Alex also discusses the African influence on the culture and way of life in Cartagena.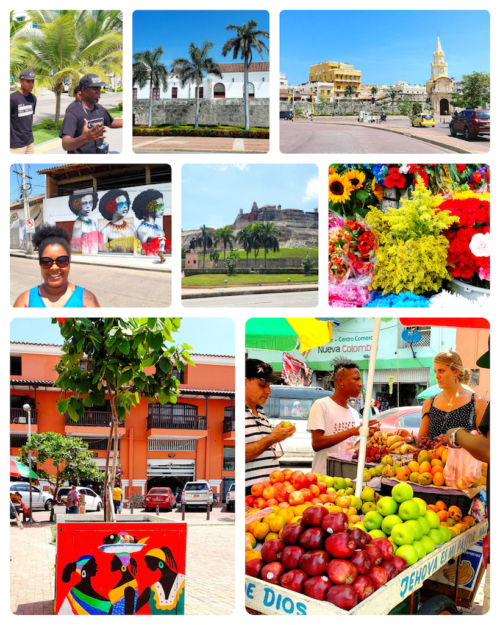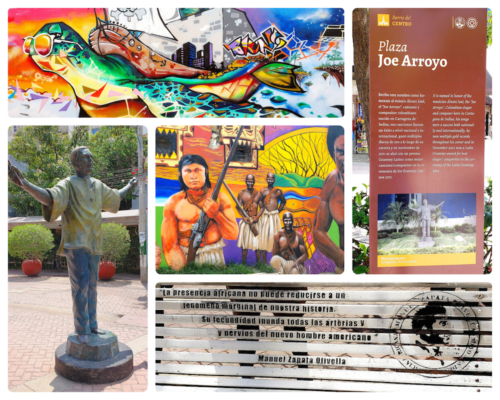 Part of the tour included visiting the Mercado Bazurto, which is a food and marketplace where many locals shop. It is a hive of bustling activity with food and fruit stalls and other vendors selling all sorts of goods that range from souvenirs, to clothing and other household goods. (Note: There is an occurrence for theft so keep an eye on your purses, wallets and backpacks.)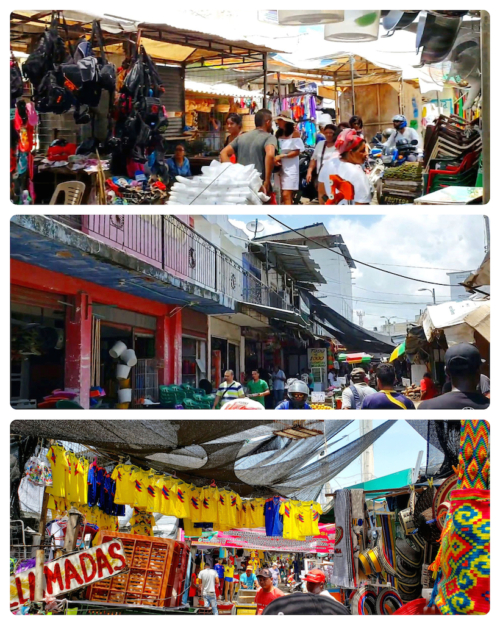 DAY TRIP TO SAN BASILIO DE PALENQUE
You won't find San Basilio de Palenque in too many guidebooks, but it has a very important history of being the first settlement for freed slaves in the Americas. In 2005, it became a UNESCO World Heritage site. Today, about 4,000 people live in the village. It's worth taking a day trip to visit the village and discover some of the rich history. The women in the colorful dresses, known as palenqueras, that you often see walking around Old Town with the baskets of fruit on their head originally come from San Basilio de Palenque. During the tour of the village, you learn about the people, culture, history and their way of life. We were able to see a dance troupe perform. For women, you can purchase a head wrap and pay the local women to affix the head wrap for you.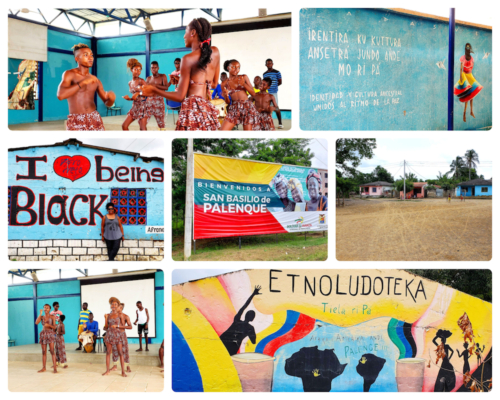 It takes slightly over an hour to get to San Basilio de Palenque from Cartagena. You can either book a tour with a local touring company (prices will vary, some will include lunch). The company I mentioned earlier in this article, Experience Real Cartagena offers San Basilio de Palenque tours. The other alternative is to either rent a car or take a bus or taxi on your own and then hire a local guide in the community to show you around.
FOOD
La Mulata
Calle Quero 9 58 Sandiego, Cartagena De Indias, Bolívar, Colombia
Phone: +57 5 6646222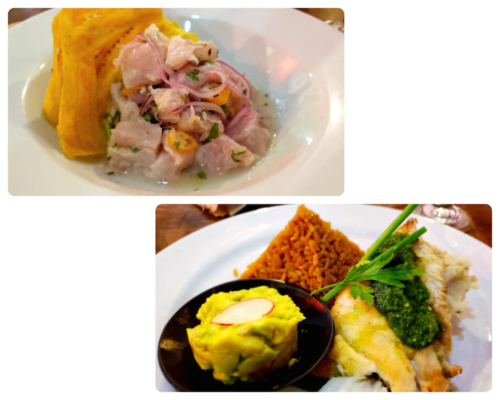 Located within Old Town La Mulata serves up some amazing seafood and the ceviche is some of the best I've ever had. The food is moderately priced.
Restaurante San Marino
12, Cl. 8 #8, Cartagena, Bolívar, Colombia
Phone: +57 5 6651140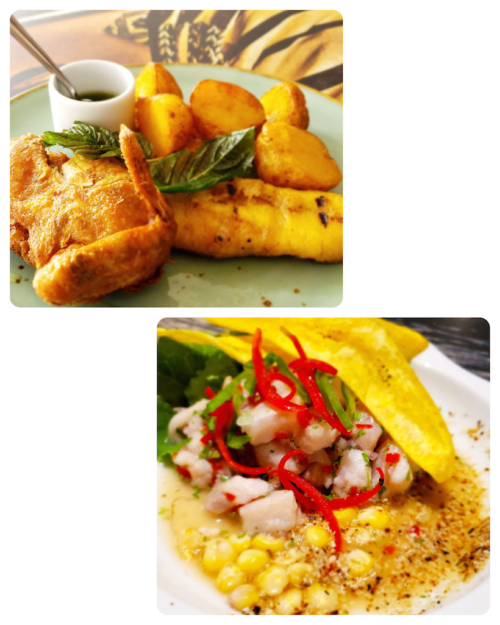 This restaurant is located in the Bocagrande area so is bit more expensive. It overlooks the beach so you'll have a nice view. The wait staff is friendly. The chicken dish I had the second night I went here was delicious. Also, another place that had great ceviche.
Restaurante La Perla Negra
Cl. 63 #21, La Boquilla, Cartagena, Bolívar, Colombia
Phone: +57 5 6560846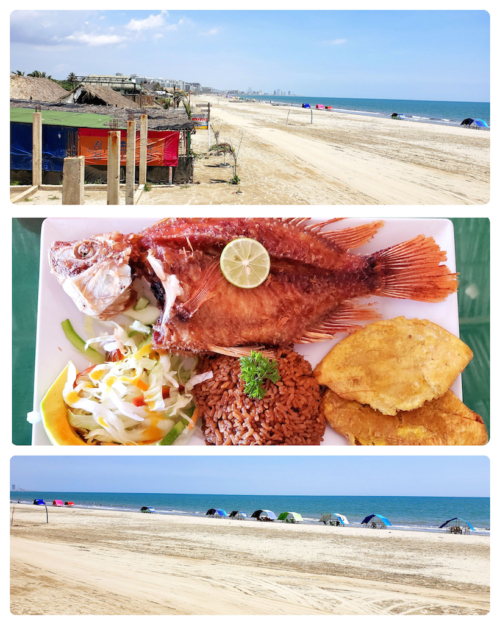 Situated on La Boquilla beach, this restaurant offers up simple seafood dishes that are quite tasty. The fish was succulent and well seasoned. If you're looking for inexpensive dining, you've come to the right place.
Trip Highlight
Another highlight of my trip to Cartagena was being there during the World Cup. Most Colombians are very passionate about football (I know we call it soccer here in the U.S.). Everyone walked around wearing the bright, almost neon yellow shirts in support of the home team. Getting to watch the Colombian team play a game alongside their countrymen was a very fun experience.
So there you have it, a few things to do and places to eat if you only have a couple days to spend in Cartagena. This city has a lot to offer. I look forward to getting back soon to further explore this great city.
https://shewanderstheglobe.com/wp-content/uploads/2018/09/20180914_045403-e1537059311218.jpg
875
1500
Moni Boyce
http://shewanderstheglobe.com/wp-content/uploads/2018/09/bigger-logo.jpg
Moni Boyce
2018-09-16 01:04:43
2018-09-16 01:18:05
How To Spend A Few Days In Cartagena